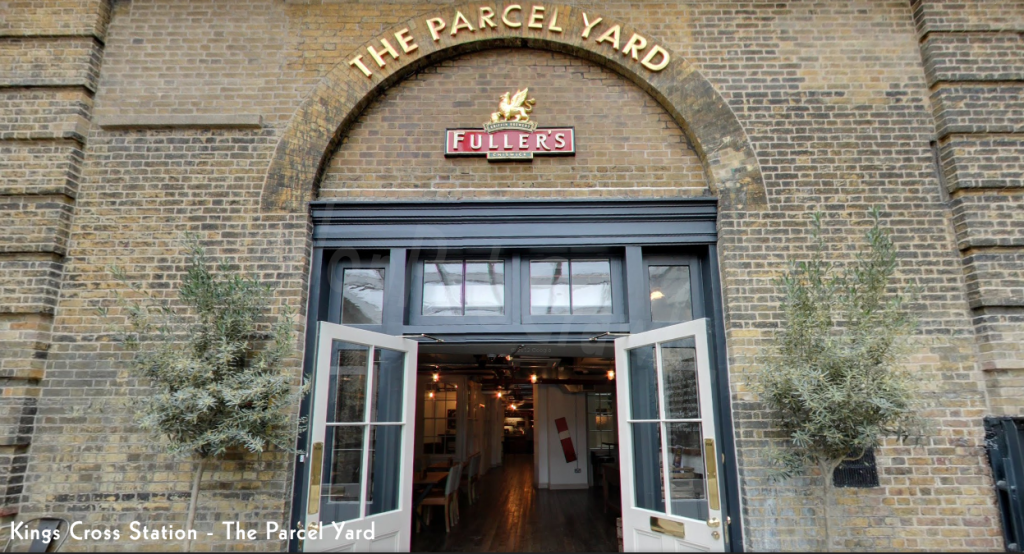 King's Cross Station,
London,
N1 9AP
(020) 7713 7258
The Parcel Yard is located inside King's Cross station.  It's got traditional pub food all week and a great choice of drinks.  One of the cool things about this pub is the central atrium area, surrounded by listed glass and topped with a glass ceiling three floors high.
This pub is located in the new concourse of Kings Cross station.  It is one of the 4 railways you will visit on our London Monopoly Pub Crawl.  If you love to people watch, this is a fantastic pub for that. It's also perfect for seeing the departure screens.  they are in perfect view so you'll not miss a train if you need  to catch one.
Opening Hours
MON  08:00 – 23:00
TUE  08:00 – 23:00
WED  08:00 – 23:00
THU  08:00 – 23:00
FRI  08:00 – 23:00
SAT  08:00 – 23:00
SUN  09:00 – 22:30
Tube/Rail
Kings Cross St. Pancras
Food Times: Mon-Sat 08:00-22:00
Sun 09:00-21:30
Booking Advisable on Mon, Tue, Wed, Thu, Fri, Sat, Sun
Avg Food Spend
£10* – £20* per person
Drink Info
Beer from £4.30* per bottle
Wine from £17.00* per bottle
Great wine list with over 50 wines on the list.
*price may change without notice.