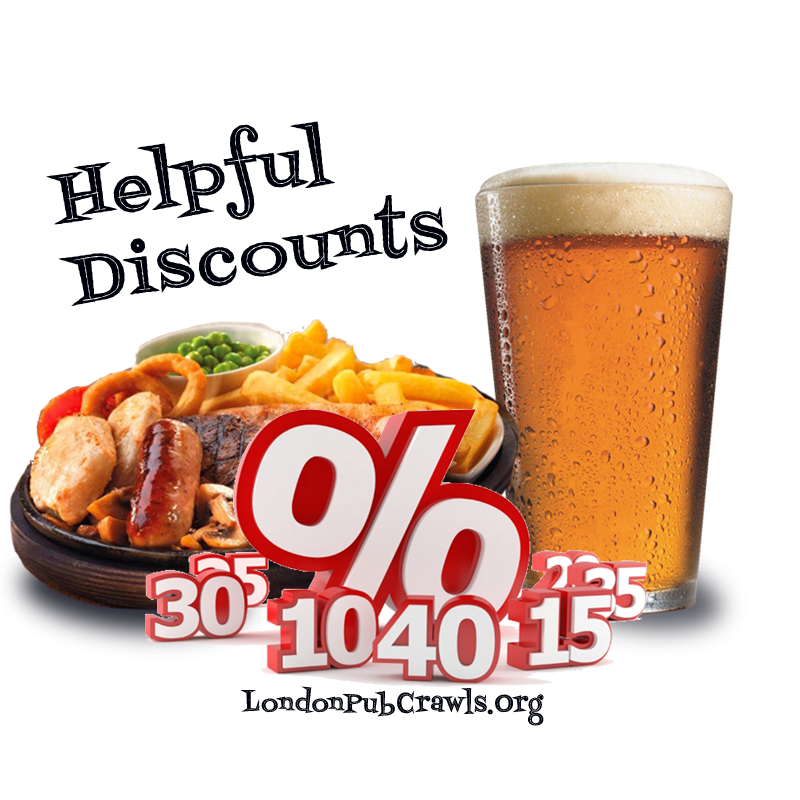 Discounts will need to be signed up a week or two before your crawl date.  Everyone in your group who wants to take advantage of these discounts should sign up with their own account.  We are not affiliated with any of these groups, but we do use them and want to recommend them to you.  I personally like the Fuller's and CAMRA deals.  I'm a beer/ale snob and being a member of CAMRA is great for tasting new beers at the festival in London every year.  You don;t need to take advantage of any of these to have a great crawl.  I've just listed them because I think saving a couple quid here and there is a good thing. If and when I find more great offers I'll post them here.  If you know of some I've missed, please feel free to email me at London Pub Crawls Org. so I can add them to the site and app.
---
Fuller's Fine Ale Club – Once you get your card, you can get 10% off any Fullers Products at a Fullers Pub.  You can also get 20% off The Fullers Brewery Tour and 10% off Hotel Stays.  I recommend signing up.  They don't bombard you will a lot of emails and the discount off a pint (no limit on use) still saves you a bit of cash-ola.  I also like that they mail you a card to carry around with you.  Other places are as cool as these guys.  It's Free To Join
Monthly newsletter packed with beer and pub news and stories from in and around the brewery
First look at our new seasonal's and limited edition ranges
Exclusive invitations to quarterly Fine Ale Club Events
Special offers and discounts on brewery tours and hotel stays
Competitions exclusive to Fine Ale Club members
Comment on articles on the Fuller's website
CAMRA – Campaign For Real Ale – When you sign up with this group you get some really great stuff.  A year of coupons to use at JDWetherspoon pubs for starts.  50p off a pint.  You can only use one per visit, but if you crawl a few pubs that are JD Wetherspoon's, it's a couple quid savings.  You also get discounts on the Great British Beer Festival entry fee that's held every year in London (and other locations).  This is a great group to join.  I love being a member!  You can see all the benefits you get on their website.   £24 (non-Direct Debit £26) and £29.50 (non-Direct Debit £31.50)
Young's Pubs – You have to sign up to individual pubs with this brewery.  If you're crawling some young's pubs you will have ot have everyone in your group sign up at each of the pubs to get a discount for a drink.  There are other benefits to signing up.  If you like the pub you were at and want to go back for some event they might be having, you will be notified by email about said events.  This being said, not all Young's Pubs participate in this, so you will have to do your research.
Taylor Walker Pubs – £5 OFF YOUR NEXT MEAL.  New members joining the email club get £5 off their next meal, as well as other exclusive offers and promotions.
Flaming Grill Pubs –  These pubs have great steaks and meal discounts.  Get 20% OFF Your Food New members joining our email club get a scorching hot 20% off their next meal, as well as keeping up-to-date with all the latest news and flaming grilliant offers. I like the deals here.  It's free to sign up and you get emails from them.  Why not have a nice meal on your crawl.  You have to eat at some point.